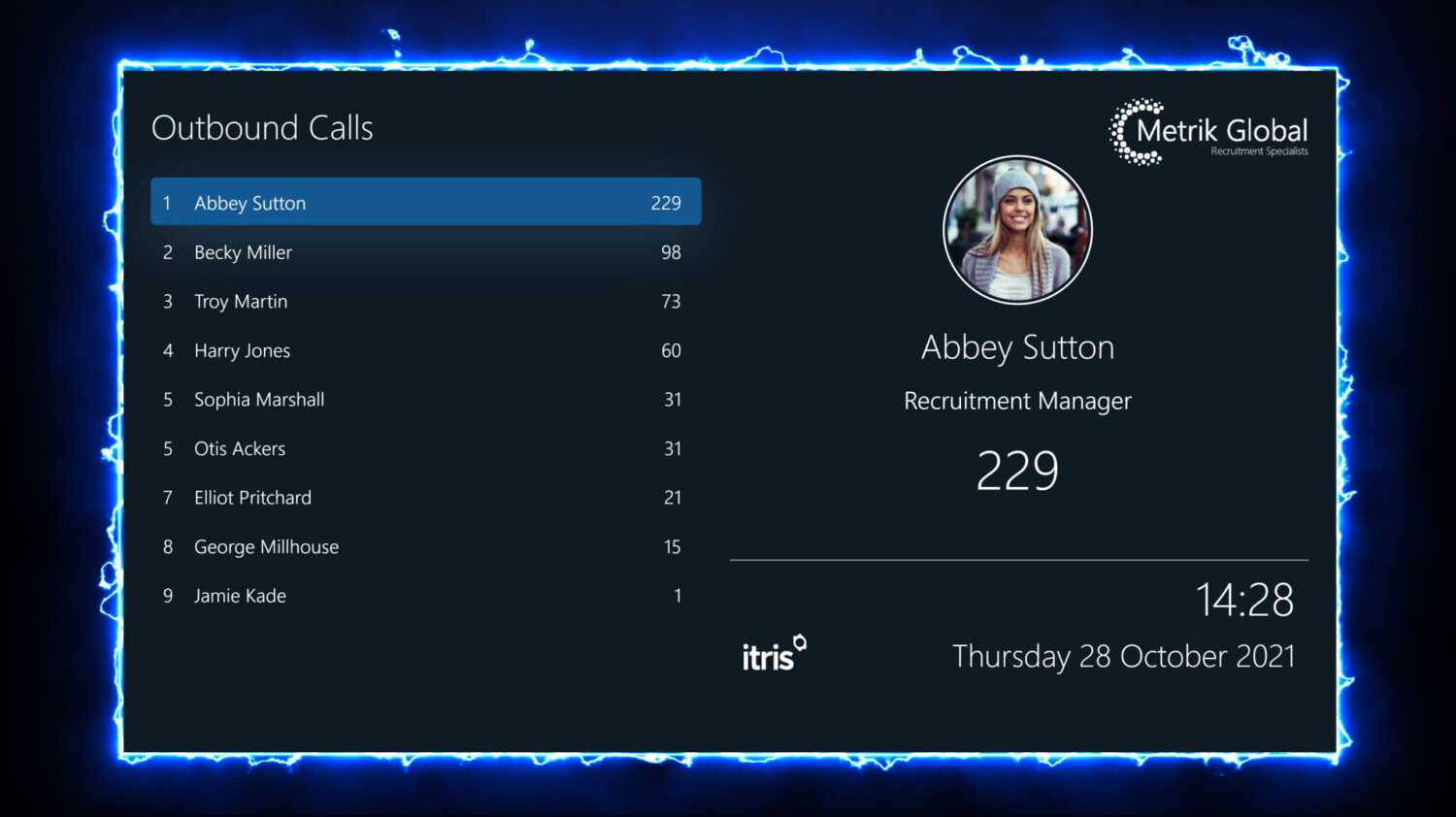 Leaderboards
Motivate your staff by displaying live key metrics on the big screen direct from your Recruitment CRM. Asses KPI's, efficiency, use of the software and encourage healthy competition across your users, offices, and teams on a daily, weekly, monthly or even annual basis, all in real time.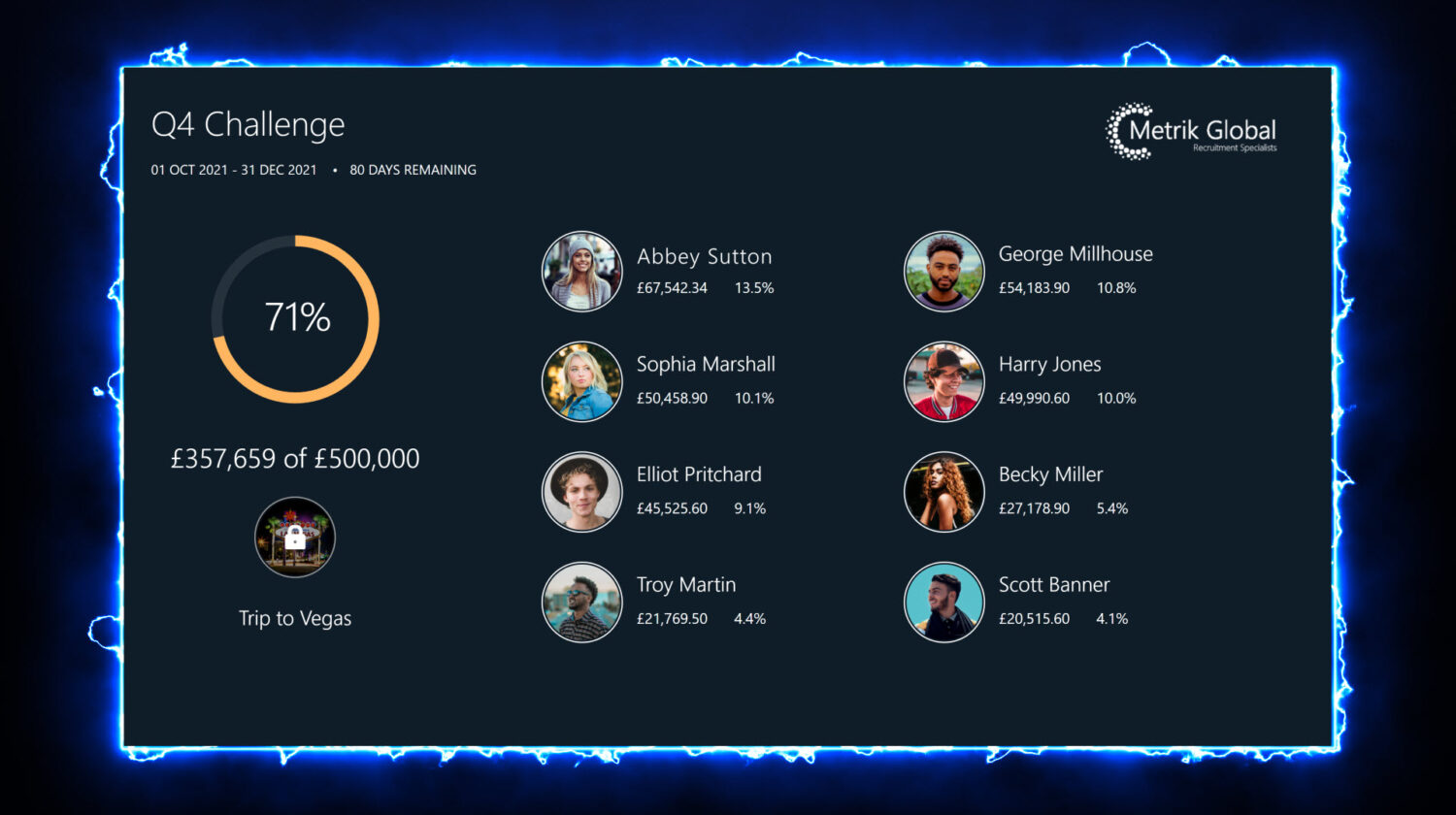 Incentives
Create collaborative target based incentives and challenges to boost productivity across your recruitment business. Help your recruiters visualise their goals and targets easily and incentivise their performance, from leaving an hour early, lunch clubs, or a week in Ibiza, we've got you covered.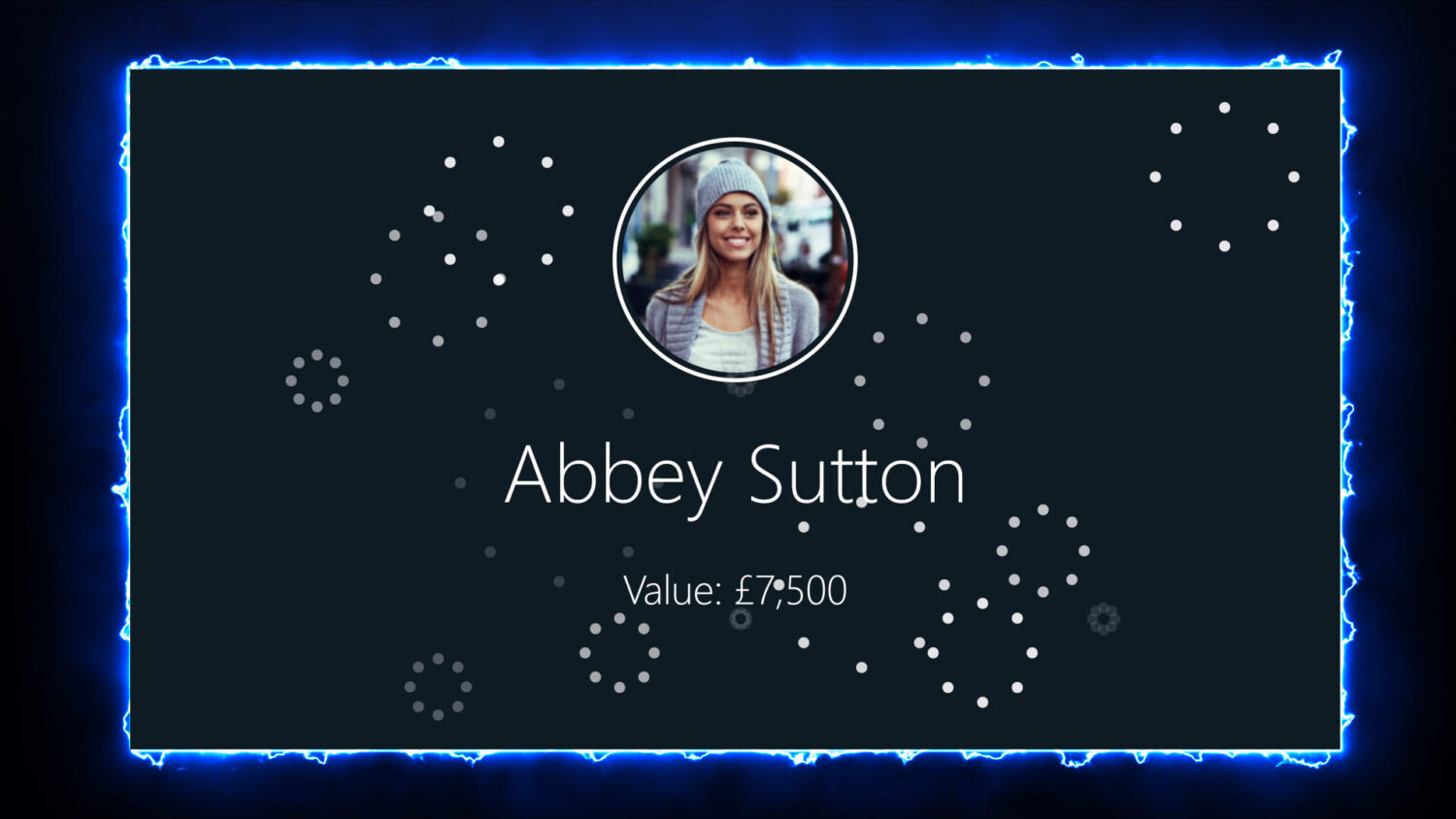 Placements
Broadcast your recruitment consultants deals in real time across your business. Displaying applicant, job, company, and financial details in one easy to understand visually pleasing screen. Play music and sound affects or why not give your recruiters the option to set their own anthems!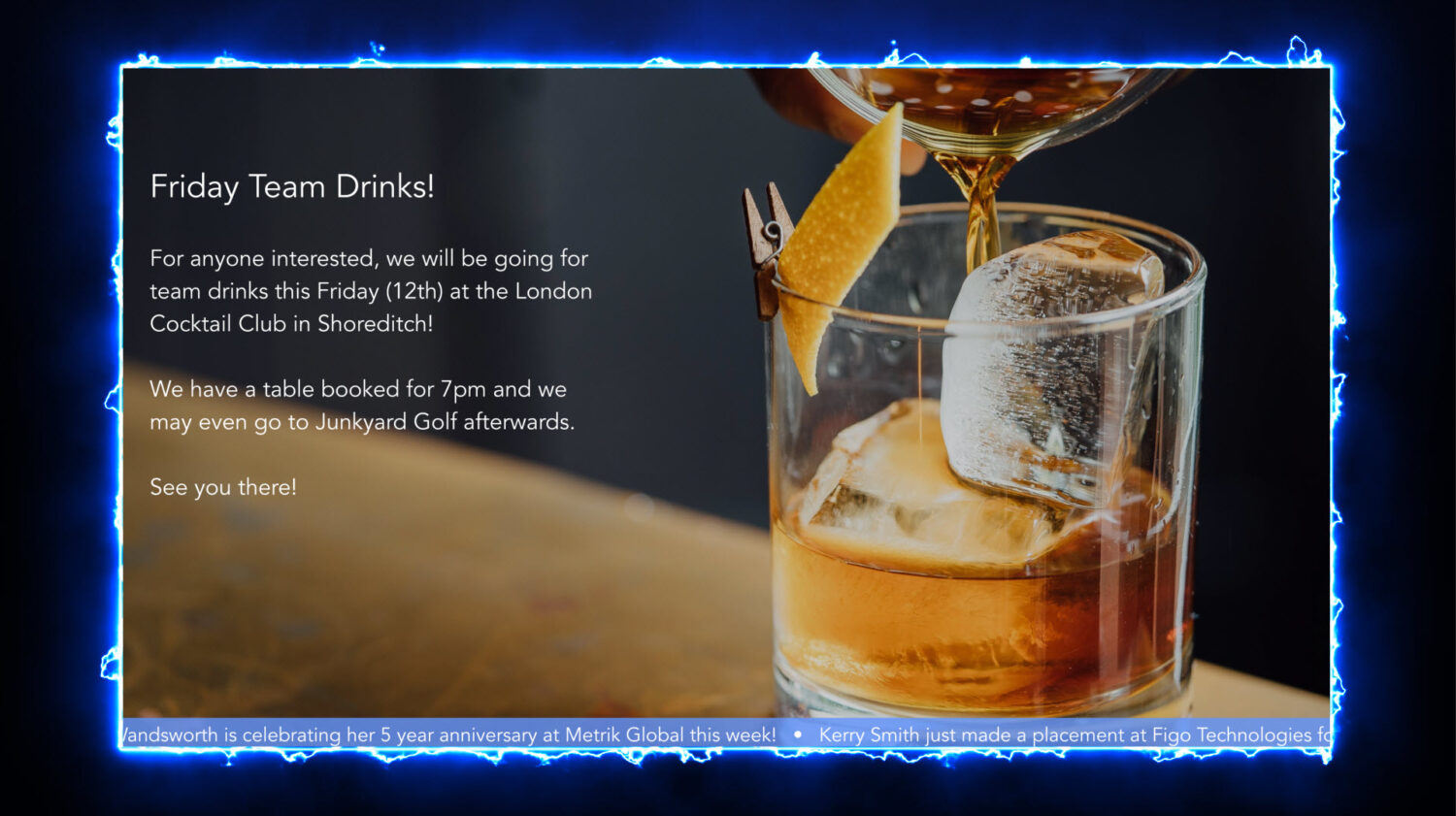 Custom Notifications
Say goodbye to company wide emails and hello to custom notifications. Create your very own, fully customisable boards to inform, motivate and engage your staff throughout the working day. Allowing you to communicate clearly and visually at the click of a button.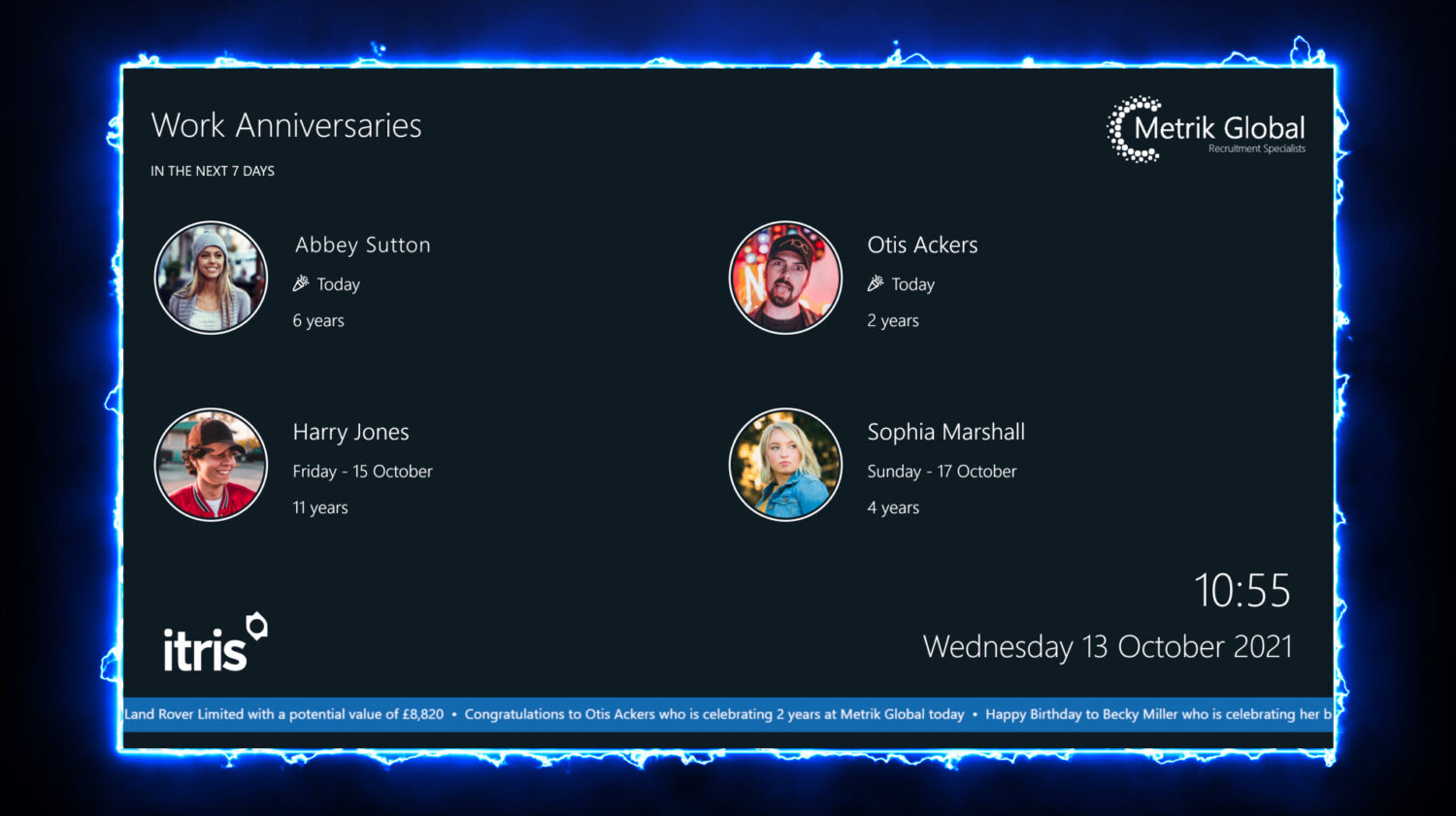 Celebrations
Celebrate with your recruitment colleagues on their special day or even ahead of time by using our fully automated, birthday and work anniversary boards. Giving you a snapshot of the celebrations in the coming week, allowing you to order the bubbles and balloons ahead of time.
Book an itris Recruitment Software demo today!
The Best Recruitment Software just got better by adding state of the art reporting gamification for recruiters and staffing professionals. Real time recruiting data is pulled from your recruitment CRM or ATS and displayed in real-time leaderboards, incentives, shout outs, and customisable boards to help drive performance.
Fully customisable to your branding, itris 9 Powerboards can help you spread internal brand awareness, as well as increase user adoption and staff motivation. Help your team visualise their goals and incentives whilst promoting competitive behaviour and the use of your recruitment software with itris 9 Powerboards.
To find out how itris 9 recruitment CRM software and Powerboards can benefit your recruitment business, get in touch today! Our data experts can demonstrate a fully customised board in seconds. Or why not take a look at some of the recruitment software reviews from our users.